IDLI is not a Brand its a Culture
The very aesthetic French sensibility, prowess of Indian craftsmen and the elegance of its founder intermingle to become

IDLI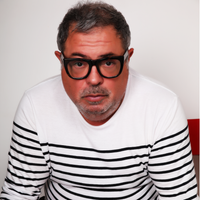 Thierry Journo
Art is where I have the most creative freedom, but I love producing. To me, that's kind of where all the action is. You get a chance to have your hands in every aspect of creativity.
Being passionate about history, I started my journey as a copyist at Louvre Museum and the attended many creators like Thierry Muglar & Andree Putman. As an illustrator, I collaborated with John Galliano to draw his collection. And now being present in India from the past 14 years and with IDLI , it has turned into a paradise for all lover of beautiful things.
Idli Style
At IDLI we dont design clothes we design dreams
We often choose colors, styles and artwork  to create visually stunning design.